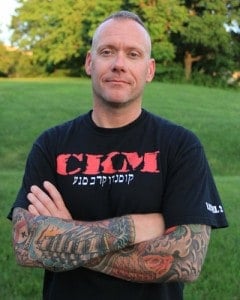 Philip Kennedy began martial arts as a teenager studying Tae Kwon Do in Richmond, Virginia under Grandmaster Dong. As an adult, he returned to martial arts earning his 2nd degree black belt in American Freestyle Karate under Master John Bowersox.
While studying American Freestyle Karate and Shotokan, he found a passion for the self-defense system of Krav Maga. Mr. Kennedy is currently a Level 4 Krav Maga instructor. In addition to unarmed defensive tactics he is also a TAC 3 firearms instructor through the Israeli Tactical School. His completion of TAC 1-6 with owner and chief firearms instructor Tomer Israeli, former chief security officer with the Shin-Bet, provided training for active shooter and home invasion protection.
In addition to Virginia Self-Defense & Fitness Mr. Kennedy was the self defense and martial art instructor for Mary Baldwin University in Staunton Virginia until relocating to Tappahannock Virginia in 2018.
In his spare time, Mr. Kennedy enjoys spending his time on the water with his wife, his son and their two German shepherds.
Certifications
Krav Maga – Level 4 Instructor
American Freestyle Karate – 2nd Degree Black Belt
TAC 3 Firearms Instructor – Israeli Tactical School
Combat Survival Inc – Officer Protection Instructor
Shotokan Karate – Red Belt
What Others Have to Say
"It has been a pleasure and honor over the years getting to know martial artist Philip Kennedy. He has demonstrated himself to be both an exceptional student and great instructor in the practice of CKM (COMMANDO KRAV MAGA), but more importantly a good man and friend to humanity."
– Andrew Clough, Founder, Boondock Survival
Ready to Work with Mr. Kennedy?
Contact Virginia Self Defense & Fitness now to get started.