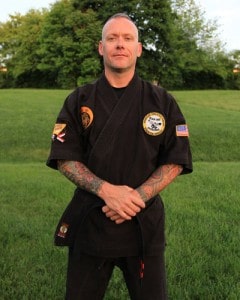 Virginia Self-Defense and Fitness relocated to Tappahannock Virginia in 2018 after 8 years in Staunton Virginia. Since our move we have discontinued our regular weekly classes primarily focusing on women's self-defense seminars. Other training is still available and can be arranged as a group seminar. The list of seminars includes:
– Women's Self-Defense
– Gun Defense
– Knife Defense
– Ground Survival & Striking
Virginia Self-Defense and Fitness provides their clients a certified instructor with first aid training, insurance and professional training equipment to ensure top quality instruction and training for all level of students.
Although Mr. Kennedy has training in a variety of martial arts including karate, aikido, escrima and Kali, his classes and seminars are primarily structured around Krav Maga because of the simplicity and effectiveness of this reality-based system. Avoiding conflict is always top priority, however sometimes conflict is unavoidable.
The most rewarding feedback Mr. Kennedy received was from a law enforcement officer who was able to disarm an attacker with a knife without injury to himself or the offender.
What Others Have to Say
"I have found CKM to be an easy to use and effective self-defense method that has blended well with my former Marine Corps training. Phil Kennedy is an instructor who makes the techniques easy to understand and enjoyable to learn."
– John Dale Gardner, former Sgt. USMC and author of Combat Devotions
Have Questions?
Contact Virginia Self-Defense & Fitness to get the answers you're looking for.